The mood is set for a perfect date at these elegant dining destinations.

The House, Gramercy Park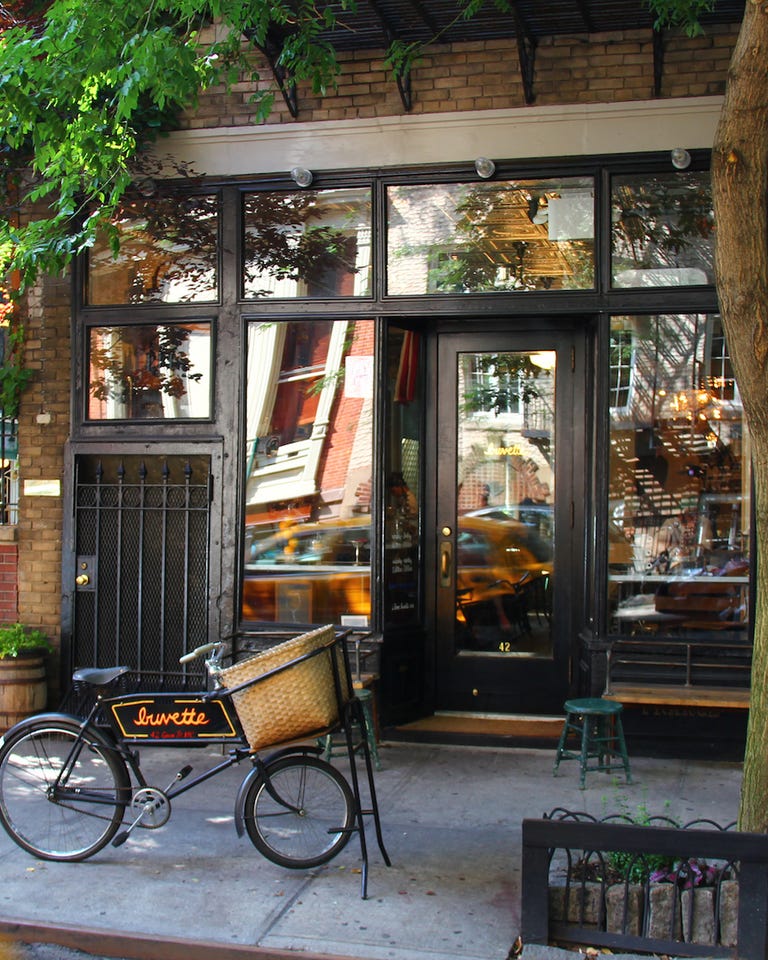 Buvette
Let this pint-sized, all-day eatery transport you from the West Village to Paris with its charming decor (think marble bar, tiny candlelit tables, vintage flatware) and classic bistro menu (think croissants, steak tartare, and coq a vin) by Jody Williams. Given its snug size and popularity, Buvette crowds up quickly–giving you all the more reason to get closer to your companion.
42 Grove Street, New York, NY 10014
(212)-255-3590;
La Grenouille
While the decor of this family-owned midtown French restaurant couldn't be any more romantic–thanks to deep red banquettes, mirrored walls, and the famously lush floral arrangements–what keeps the dining room packed night after night is the kitchen's commitment to classic, time-tested dishes like buttery Dover sole, silky foie gras terrine, and light-as-air soufflés.
3 East 52nd St., New York, NY 10022;
(212) 752-1495;
Cecconi's
For ambiance, this is hard to beat with waterfront views of the Brooklyn Bridge, and the drama of the Manhattan skyline. The soft light of crystal chandeliers offsets the rough texture of the exposed brick walls, while soft white curtains complement the plush velvet chairs. Against this setting, the menu of luscious pasta and wood-fired pizzas, as well as the attentive service meet the requirements for a sultry evening, especially when paired with an aperitivo. The wine list is extensive with German, Spanish, Italian and French vineyards represented. Most piazzas and pasta fall into the $16 to $27 range and there are a number of tasty vegan and vegetarian options on the menu.
55 Water Street, Brooklyn, NY 11201.
718-650-3900.
Fig and Olive Fifth Avenue
The fig and olive trees of Provence are a symbol of peace and prosperity –the inspiration for this Mediterranean restaurant. Although Fifth Avenue is a far cry from the peaceful hillsides of Provence the restaurant is a light-filled space that encourages you to take life at a slower pace. The Valentine's Day prix fixe menu is $75 and includes a three-course meal with optional wine pairing at $35. Choices include baked oysters, rack of lamb, and duck carpaccio but leave room for the dessert that includes the Amarena Cherry Chocolate Mousse Cake option.
10 E 52nd St, New York, NY 10022.
212-319-2002